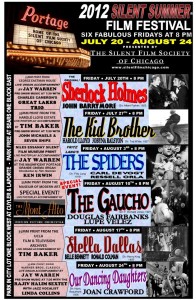 The Silent Film Society of Chicago just announced its lineup for their summer film festival, one of our favorite events of the season. The festival runs on Friday nights from July 20 through August 24 at the Portage Theater in Chicago.
This year will bring us some comedy from Harold Lloyd, some action from Douglas Fairbanks, drama and mystery from John Barrymore and adventure from Fritz Lang along with other great stuff.
Click on the image above to see all the details.. See you there!