Nevada Singles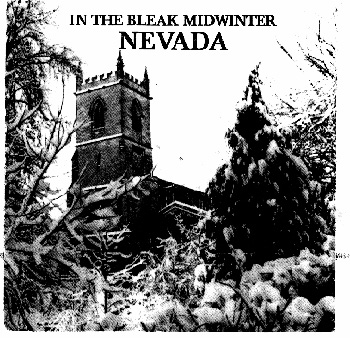 © 1980 Polydor, Ltd. (UK)
Lyrics
© 1980, 1981 Polydor UK Ltd
Transcribed by: Russell W. Elliot
Last Update: 22 September 1996
---
Nevada was a short-lived group led by Michael Dunford and Annie Haslam from Renaissance. Following their Azure d'Or tour in Israel and the departure of Terence Sullivan and John Tout from the band, Annie Haslam and Mick Dunford formed Nevada as an alternative he believed could grow alongside Renaissance. The group did some demos and had one appearance on a TV show in the UK.
Nevada released just two singles during the period between Renaissance's Azure d'Or and Camera Camera albums. Peter Gosling, who played with Renaissance for their final two albums performed with Nevada and co-wrote three of the four songs released. The first single, "In The Bleak Midwinter" / "Pictures In The Fire" (Polydor UK POSP 203) was released in 1980 and charted in the UK in early 1983. The second single "You Know I Like It" / "Once In A Lifetime" (Polydor UK POSP 229) was released in 1981 and never hit the charts.
These four songs, quite different from the those of the Renaissance albums released before and after, reflect an exploration of the artists in alternative music ranging from the English ballad "In The Bleak Midwinter" to the popular sound of "Pictures In The Fire" and "You Know I Like It" to the contemporary sound of "Once In A Lifetime" which one can hear seeds of sounds incorporated into Renaissance's last two albums. Annie Haslam's stunning wide range vocals are featured in the first three songs and she sings backup in the fourth. Michael Dunford has confirmed that the lead vocal track on the very different "Once In A Lifetime" was performed by Peter Gosling. These rare singles were pressed only in small quantities and should be part of any serious Renaissance fan's collection. Used copies can occasionally be found.
---
As these lyrics were obtained by closely listening to the recordings and converting them to the written word, we apologise if any errors have been introduced.
---
In the bleak midwinter
Frosty wind made moan
Earth stood hard as iron
Water like a stone
Snow had fallen snow on snow
Snow on snow
In the bleak midwinter
So long ago
What I give him
Poor as I am
If I were a shepherd
I would bring a lamb
If I were a wise man
I would do my part
Yet what can I give him
Give my heart
In the bleak midwinter
Frosty wind made moan
Earth stood hard as iron
Water like a stone
Snow had fallen snow snow
Snow on snow
In the bleak midwinter
So long ago
Pictures in the fire
Reflections of myself
Take a look in the mirror
What do I see
A portrait of me
Chorus:
And the smoke curls up the chimney
Sending messages of love
But you're so far away
So far away
This cold wintry evening
I curl up by the fire
I wonder what you're doing
I know we agreed
To part for a while
Chorus
So here I am alone again
Pretending that you're with me
I can't so no/she can't say no
And I can't let go/and she can't let go
I thought he'd never leave me
Turning round I see you
I know it's tonight
It's just my heart deceiving
A trick of the light
And the smoke curls up the chimney
Sending messages of love
If only you were with me
Oooh oooh oooh oooh
Oooh oooh oooh oooh / oooh oooh oooh
Oooh oooh with me

And I can't say no ... she can't say no
And I can't let go ... and she can't let go
Pretending that you're with me
So here I am alone again
Thought you'd never leave me
That look in your eye
The touch of your hand
Oooh you know I like it
Hot summer nights
Oooh the warmth of your kiss
And you know I like it
Ooo-oooh you do something to me
Take me hold me la-la-la-love me
Touch me ooo-oooh every little thing I want you
Love me tonight
Hold me tight
Oooh you know I like it
The things that you do
I've got to have you
And you know I like it
Ooo-oooh you do something to me
Take me hold me la-la-la-love me
Touch me ooo-ooh every little thing I want you
Ooo-ooh you do something to me
Ooo-ooh you do something to me
Ooo-ooh you do something to me
Take me hold me la-la-la-love me
Touch me ooo-ooh every little thing I want you
Touch me ooo-ooh every little thing I want you
Let's say the words
I want to hear
And you know I like it
Hot summer nights
Ooo-ooo-ooo-ooh you know I like it
The warmth of your kiss
Ooo-ooo-ooo-ooh you know I like it
Ooo-ooo-ooo-ooh oh you know I like it
Lifetime you know I like it
Champagne cocktails after three
Cafe Royale's the place for me
Penguin waiters chandeliers
All that glitters
Here inside my head my inside
Only once in a lifetime
It only happens once in a lifetime
Make the most of it
Don't play around with it
Only once in a lifetime
Take my hand you silver spoon
We can dance around the room
Angelo bring more wine
My friend and I
We wish to dine
Inside my head my inside
Chorus:
Only once in a lifetime
It only happens once in a lifetime
Make the most of it
Don't play around with it
Only once in a lifetime
Only once in a lifetime
It only happens only once
Only once in a lifetime
There's many a place I haven't been
Declined an offer from the Queen
Refused admission (you can't come in here mate)
On the door
It's still that Cafe Royale
That scores inside my head my inside
Chorus
Only once in a lifetime
Only once in a lifetime
Only once in a lifetime
Only once in a lifetime
Only once in a lifetime
Only once in a lifetime
---