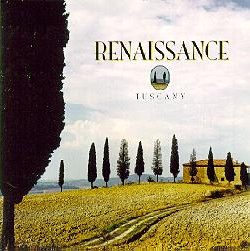 Image © 2000 The White Dove Organization Inc
Northern Lights Music Ltd

Album Review
© 2000 Editors of Northern Lights
Last Updated: 10 December 2000
---
The first album of all new music to emerge from Renaissance since Time-Line (1983) is entitled Tuscany (EMI Toshiba (Japan) TOCP-65591, 2000). Join Northern Lights editors and Annie Haslam in a frank discussion surrounding the making of the album and read our review of the ten new tracks.

Background. Since the last incarnation of Renaissance called it a day in June 1987, fans of the band's music have tirelessly sought a reunion; discussions in both printed and electronic media have raged for years. There are countless interviews with band members that show that while there was interest amongst some, unknown obstacles to further collaboration remained.

In early 1998, following the successful showcase performances of Michael Dunford's Scheherazade Musical at the Royal Academy of Music in London in late 1997, things suddenly changed. Prior to the showcase, Annie Haslam and Michael Dunford joined up in the production of a demo recording of several of the musical's numbers. Perhaps it was the London recording of Annie's rendition of the signature track "In The Stillness of the Room" and another entitled "Remember Me" that showed two of the band's core members that they could still work effectively together. Both admitted how much fun it was to work together and enjoyed the magic felt earlier in their careers. Terry Sullivan's attendance at one of the showcase performances continued to build enthusiasm.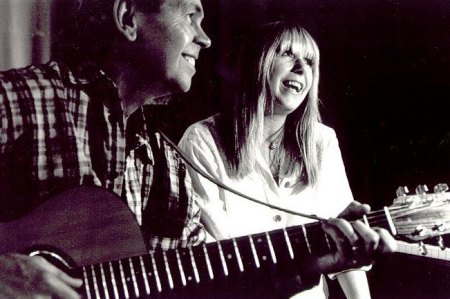 © 1997 Michael Dunford and Annie Haslam (1997)
With three of the band members now pulling together, John Tout came aboard as well and reunion recording sessions began at Sullivan's Lymington-based studio in the south of England. Preliminary plans were to do a few new tracks that would be sprinkled in with fresh new remasters of earlier classics on Dunford's Northern Lights Music label. But as the new material emerged, it was evident that a full album of all new music should be put down.
Annie told us, "I guess the time was right, I had the time to do it as previously I had been too busy." She continued, " It was great to work together again, we had a lot of fun, at times it was strange but we got used to each other again."
For a variety of reasons guest artists Roy Wood and Mickey Simmonds were recruited to round out the lineup. Annie told us, "It was extremely exciting to work with Roy again. He came up with interesting ideas, which is something Roy is known for." She continued, "Also his sense of humor is unequalled! He's really a 'trip' to be around!" And about Mickey Simmonds, she said, "he is a very talented musician, we were very fortunate to have him as part of the project. Another funny guy—we had a lot of laughs!"
After hearing the positive results of the initial recordings, subsequent sessions were scheduled. As the summer of 1998 came to a close, almost all of the tracks were in preliminary form and the sound made it clear: a new Renaissance—resembling both the past and future of the band—had emerged.
We asked Annnie about the mixdown to the final product recently and she told us, "Well, to be honest we could have done with more time—this is always the way in this business though! There were a lot of elements to contend with. I have to admit that working on a smaller scale with my own band is a lot easier to deal with, but what the heck, I knew that it would be different and we managed it OK! "
The search for a record deal concluded in early 2000 when it was announced that EMI Toshiba (Japan) would release the new album by the latest incarnation of Renaissance. The label plans to release remastered mini-LPs of Prologue and Ashes Are Burning in late January 2001.
Renaissance Year 2000. In this new millennium, enthusiasts have been blessed with a flurry of Renaissance releases on smaller labels. These include albums of 'live' recordings as well as another album of rarities, including previously unreleased Renaissance tracks and the previously "lost" Nevada material. Enthusiasts certainly haven't been starved for new titles by Renaissance in a variety of lineups.
The year's first release was the BBC Sessions two-CD set of 'live' recordings by the mainstream Renaissance lineup on Wounded Bird Records (review). The first release by Mooncrest in 2000 was another 'live' set by the same lineup with nine tracks entitled Day of the Dreamer (review). This was followed up by Pictures in the Fire, again on Mooncrest (review). The album includes ten Nevada recordings by Michael Dunford, Annie Haslam and Peter Gosling as well as three eclectic and previously unreleased Renaissance tracks from the early 1980s. The lineup included Michael Dunford, Annie Haslam, Raphael Rudd and Mark Lambert.
Renaissance Unplugged Live at the Academy of Music is the latest 'live' album on Mooncrest. Annie Haslam, Michael Dunford, Raphael Rudd, Mark Lambert and Charles DesCarfino constitute the lineup for the twelve-track album recorded in Philadelphia during 1985 (review). Annie Haslam's latest solo project, The Dawn of Ananda (White Dove Records (USA) WD 000-02, 2000), a ten track project centred on the subject of angels, was also released this year.
As the latter half of October approached, Tuscany was released in Japan. Copies of the album reached American and European audiences several weeks later. Domestic releases in these territories are still being pursued by the artists and at this time no firm plans have been made. All music was written by Michael Dunford and Annie Haslam.
Our Review. One fan categorised the the album's music as 'Tuscany Period Renaissance.' This characterisation clearly aligns with our view; the music has moved on from the mainstream and post-mainstream period blending classic progressive material with contemporary arrangements. It clearly blends the styles of Michael Dunford's latter day work with the sound of Annie's recent solo work. Check out Northern Lights' online lyrics and credits file.
The track from which the album title was taken, "Lady From Tuscany," is filled with keyboard effects—blending strings with progressive excursions—and a memorable melody, Annie's vocals soar in both vocalise and lyrical sections of the track. A sensitively sung ballad, "Pearls of Wisdom" is lightly instrumented with acoustic guitar and piano gently backing Annie's lovely solo and backing vocals. Instrumentals build as the song develops in characteristic Annie Haslam and Renaissance style. Some have heard allusions of "Forever Changing" in the track. "Dear Landseer," like another track or two on the album, includes arrangements most reminscent of the band's Song For All Seasons period.
Annie Haslam signature solo-style tracks include the sweetly sung "Eva's Pond," upbeat "In the Sunshine," and sensual "In my Life" with this last one being compared by some to "I Think Of You." Annie's vocals clearly dominate the serious hymn entitled "Dolphins Prayer" where she is accompanied only by John Tout on keyboard except in the chorus where additional vocals by Roy Wood provide texture that underscores the emotional message delivery.
One needs to reflect on the band's work in the early 1980s when listening to "The Race." The rhythm and melody are certainly reminscent of the upbeat and well-arranged material on Time-Line to some extent. Keyboard played string parts work extremely well and support Annie's sweetly sung vocals. The new sound of "Life in Brazil" blends latin elements with upbeat accessible Haslam/Dunford style arrangements and many layers of male vocals joining Annie's. Only "One Thousand Roses" approaches epic length, running 7:12. Written in a style not far from the tracks on Azure d'or, two main themes alternate throughout this upbeat and well-arranged track. Annie's vocals are sensitively yet powerfully sung, soaring above the instrumentals. A dynamically played instrumental bridge precedes the song's orchestral conclusion.
Annie told us about her favourite tracks from the album. "My two favourite tracks are "Lady from Tuscany" and "Dolphins Prayer". It is about Paginini who has a special place in my heart. What a genius this man was—I love the story about his very public affair with a noblewoman from Tuscany and think that the guys did a great job in portraying my vision of him. "Dolphins Prayer" has a deep meaning for me. I was asked by a friend to say a prayer for the dolphins as they are in the process of beaching themselves all over the world. It is said that the reason is that they have tried to tell mankind that they are destroying the earth and we have not listened so now it is their time to leave. The prayer is to bless them on their journey. I also absolutely love "1000 Roses." "
The Tour. EMI Toshiba has planned a Japanese tour to promote the album. "We have a tour of Japan lined up for early March," Annie told us. "The rehearsals will be in the UK and there could be a warm up date in London if it can be arranged!" She told us about the plans for the show, "In Japan we will be performing songs from the new CD, older material and two songs from my CD The Dawn of Ananda."
Northern Lights was informed that the Japan Tour schedule will include a modified lineup of:
Annie Haslam - vocals
Michael Dunford - guitars
Terence Sullivan - drums
Mickey Simmonds - keyboards
Rave Tesar - keyboards
David Keyes - bass
The following dates and venues have been confirmed:
3.13.2000 Osaka, Big Cat
3.14.2000 Nagoya, Bottom Line
3.16.2000 Tokyo, Kouseinenkin-Kaikan
British fans will be pleased to know that the band will also perform The London Astoria on March 9, prior to their journey to the Pacific rim and opening the show will be Sojna Kristina's Cloud 10 and Claire Hammill.

Annie Haslam in Brazil
used with kind permission
of photographer Fabio Dobbs
Image © 2000 Annie Haslam
Closing Remarks. When asked about the future for this ensemble, Annie responded, "I would hope we would record another CD with this lineup. It has been mentioned but we have to 'work' this one before thinking of another. Plus the fact that I have my own band to think about as well, and my own new solo CD which will be the next project in the late Spring."
We asked Annie about the artwork for Tuscany. She told us, "I used a designer in Philadelphia named Spencer Zahn. He had done the Procol Harum album Grand Hotel and I've known him for a while." She continued, "I played a big role in the design process and the whole concept of the cover. As the lead track "Lady from Tuscany" is about the violinist Paginini and his affair with a noblewoman from Tuscany, it seemed fitting to portray that area in Italy on the cover." She concluded, "I wish we had had more time to get the band photos together. I took them on one of my 'flying' visits from America where I now live."
And about her next project, Annie remarked, "I am finishing up my new Christmas CD called It Snows In Heaven Too; I am very excited about it. Then I have three Christmas shows coming up this year. I am keeping busy and am very happy right now, even though it is very hard work!"
Northern Lights' editors are very pleased with Renaissance's latest release and to hear Dunford, Haslam, Sullivan and Tout from the mainstream lineup performing together again on several of the album's tracks. The addition of Mickey Simmonds to the lineup and guest performances by Roy Wood, John Tout, Alex Caird and Rob Williams has enabled the band to continue their development.
While we look forward to further releases by the group, note that this album is not yet available as a domestic product in America or the European Community, so as Annie told us, we may have another wait ahead. At this writing, Tuscany is readily available as an import from online sources and major chains.
---