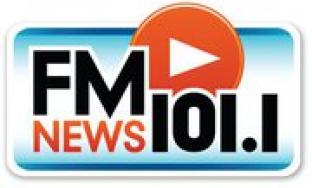 As expected, the former Q101 (WKQX) changed formats this past weekend to become "FM News 101.1" (WWWN).
There was a lot of lead-up to this change, beginning with rumors in June that the classic-alternative rock station was up for sale, leading through the announcement of an air staff with rather impressive credentials.   Time Out Chicago's Rob Feder has devoted a lot of column space to the station's startup, as have several other online sources.
I had the chance to listen to the station most of the day today as I was telecommuting, and my first impression is that they're still feeling their way through the new format.  It's not bad and certainly not unlistenable– FM News 101's air staff takes a much more casual approach than their more tightly-formatted competitor, plus they're not compressing or "optimizing" the audio or using beds of noise under the air staff,  which gives the new station a similar feel to WBEZ's, or at least a step in the direction of the all-news days of the former WMAQ.
The station offers "Weather and Traffic on the Fives," which is in direct response to WBBM's "Traffic and Weather on the Eights."   The segment is signaled by the sound of a gas station bell, which became annoying after a while. They also offer minute-long segments about shopping, technology tips (e.g. how to save battery life on your cellphone), and health.    The air staff also throws out questions to the audience and solicits responses on their Facebook page, reading the comments on the air.  Network news and features are provided by ABC Radio.
I've been a regular WBBM listener for many years, and my clock radio is still tuned to that station.  That said, I'm going to give FM News a chance to find their voice.
Speaking of WBBM:  once WWWN's owners announced their intentions,  rumors started flying about WBBM's simulcasting their programming over CBS' floundering WCFS-FM (I blogged about their "Fresh" format here). In mid-July WBBM started running spots that said that starting on August 1 you'd be able to hear them on 105.9.  And sure enough:
It'll be interesting to see what happens– stay tuned!