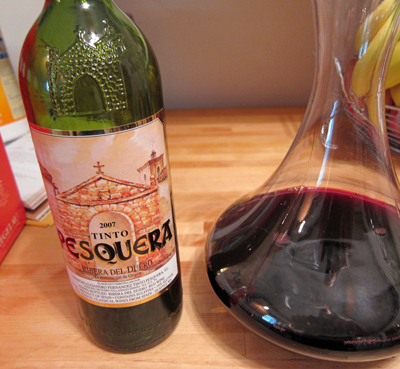 Last year, we decided to start a collection of 2007-vintage wines that we would open on our anniversary each year. We worked with the wonderful people at Wine Discount Center and Binny's to build our assortment, taking into consideration the wine we like now and those that are likely to age nicely.
This year (on our fifth wedding anniversary) we had our first uncorking, which was a 2007 Ribera del Duero Pesquera Crianza from Bodegas Alejandro Fernandez. The tasting was a success and the wine was delicious.
When we originally tasted the wine last year, we thought it was complex with some balanced fruit notes. Wine Spectator described it as a "crisp, firm red with lingering notes of smoke and clove." They also thought menthol and herbal flavors overshadowed the black cherry, which we didn't find to be true.
Our recent tasting notes:
Drank with Lisa's homemade Italian Meatball soup– started with an olive-fig tapinade (an idea Lisa got from our recent dinner at Retro Bistro) over italian bread, and then moved on to the soup.
Lisa: "It has cool fruit flavors– a little sweetness, but not a lot. Dark fruits, like cherry, medium body."
Joe: "It's become more smooth in the year that passed. Not getting any menthol or herb this time around. Dry at the finish.
Our collection includes more Spanish and French wines, so tune in next year to see what we pull from the cellar.